home

About Dongjak
History
Administrative District & Regional Characteristics
Administrative District & Regional Characteristics
Administrative District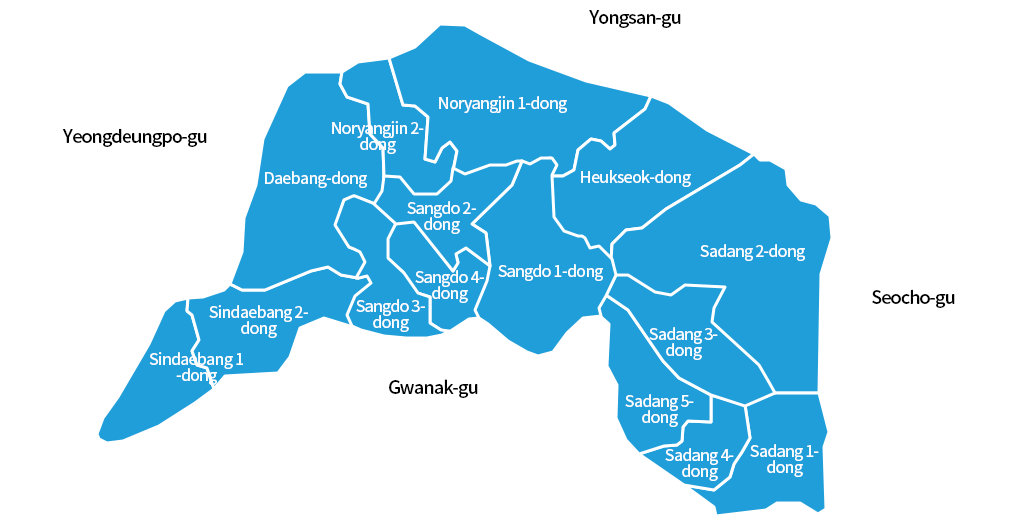 Regional characteristics
Dongjak-gu, of which the total area accounts for 2.7% (16.35㎢) of Seoul, is the city of filial piety and the transportation hub connecting all directions of Seoul. The Seoul National Cemetery and the Tombs of Six Martyred Ministers are located in Dongjak-gu.
Origin of the name of Dongjak
The name of Dongjak-gu originated from Dongjak-dong National Cemetery and Dongjaeginaru (Dongjakjin) which had connected Yongsan, Seoul to Suwon during the Joseon dynasty for 500 years. "Jak" of Dongjak was derived from the Seoul National Cemetery which looks like a peacock spreading his wings.
The transportation hub
Nodeulnaru also called Noryangjin, the center of Dongjak-gu located in the south of Hangang River, was known as the largest and busiest to the south of Hangang River. It was a military post to defend Hangang River and the center of commerce where merchants and resources were gathered.
The first urban area of southern Hangang River
In order to accommodate the rapidly growing population and traffic of Nodeulnaru , the Gyeongin Line and Indogyo Bridge were opened in 1900 and 1917, respectively, and Jungang Daycare Center (present-day Chung-Ang University) began to provide scientific childhood education in 1918 for the first time in Korea.